In the pursuit of excellence in your soldering project, a soldering station you can trust is paramount. Enter the AiXun T3B Smart Soldering Station – a compelling option that combines affordability with a rich set of standout features.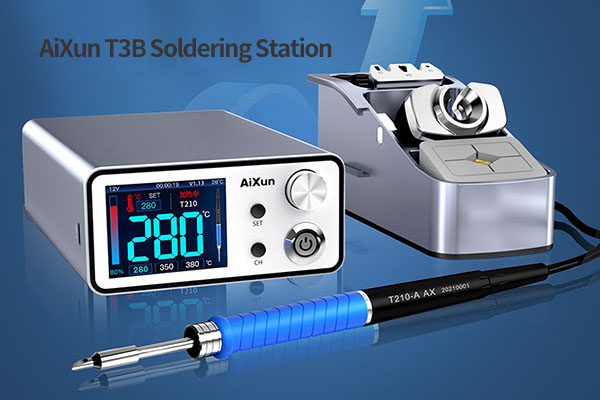 You might be wondering, with portable soldering irons serving their purpose just fine, why should you even consider the Aixun T3B?
Features and Specs
The AiXun T3B 96W smart micro soldering station is designed for electronics precision soldering. It boasts advanced temperature control, heating to 380℃ in just 2 seconds with less than 1% accuracy deviation. Its 2.4-inch LCD display provides easy status monitoring, and it supports temperatures from 100-450℃. Plus, it meets industrial ESD standards and offers remote software upgrades, a unique feature among AiXun products.
Now, let's delve into the specifications:
Rated Power: 96W
Output Voltage: DC 12V
Current Range: 0-8A
Temperature Range: 100℃-450℃
Net Weight: 640 g
Dimension: 160*110*54mm
A Close Look at the T3B
The T3B is refreshingly simple in its design – compact, intuitive, and uncluttered. The main base unit packs the buttons and control knob in an accessible layout, making temperature adjustments a breeze. Its large LED display offers clear, real-time temperature readings.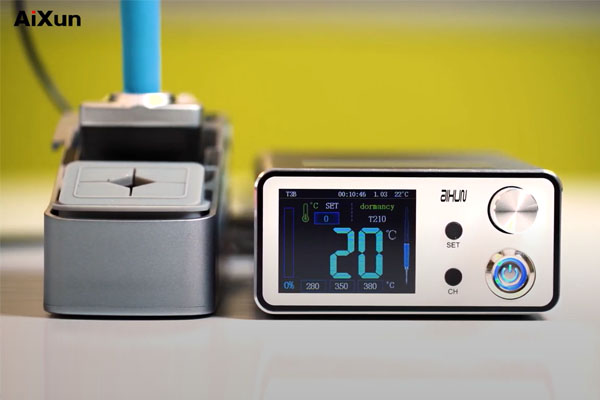 Handle and Tip
Featuring a lengthy and flexible silicone wire, this soldering tool ensures a comfortable and unrestrictive soldering experience. Its plastic grip offers decent ergonomic support during usage. If you find the handle a bit too small, you can enhance its thickness and grip with the provided sponge sleeves.
Additionally, the smart cradle comes with convenient storage for spare tips, making it effortless to swap them out when necessary. Changing tips is a breeze – simply remove the old one and slide in the new tip without the need for screws or any hassle. It's an exceptionally user-friendly process.
The T3B supports both T210 and T115 handles, offering flexibility for various soldering tasks. The handles are ergonomically designed for comfort during prolonged use, and the precision tips ensure you can tackle the tiniest components with ease.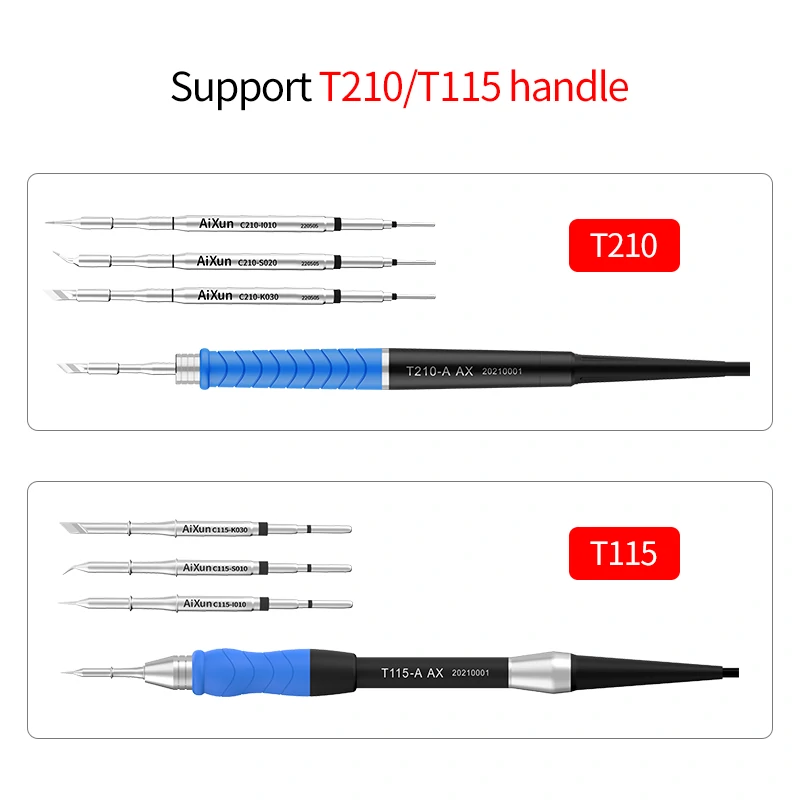 What is the difference between T3A and T3B soldering station?
The T3A excels in power and portability, boasting a 200W rating and a slightly more compact, lightweight build (145x110x54mm, 520g). This makes it convenient for transportation and capable of handling heavier soldering tasks. Its compatibility with T12, 936, and T245 handles adds versatility, making it suitable for a wide range of general-purpose work. Impressively, the T3A can reach 380°C in just 4 seconds and comes with a black iron handle base.
The T3B is tailor-made for nano-precision soldering, making it ideal for delicate tasks like smartphone and laptop repairs. It supports T210 and T115 handles and, although slightly bulkier (160x110x54mm) and heavier (640g) than the T3A, it has a lower 96W rating. Nonetheless, it can achieve 380°C in a rapid 2 seconds and features an upgraded metal steel handle base.
In terms of screen, menu, user experience, and sensors, the T3A and T3B offer a very similar experience.
In summary
Aixun T3B Soldering Station is an enticing option suitable for both hobbyists and professional electronics enthusiasts alike. If you are committed to the world of electronics and soldering, this soldering station should certainly be on your radar.
You can get a quote for the Aixun T3B soldering station by visiting the official AiXun website.