The soldering station works by using an electric current flowing into the metal tip of the soldering iron to generate heat and melt the solder. In this case, it can be used to fuse two metals together. This is a very simple process.
However, if you are going to buy a soldering station, and you want to buy a more perfect soldering station, this can be a very difficult thing. Because it requires you to consider a lot of things before buying, its type is the main thing you should focus on.
While their main function is to heat up, not all soldering irons are suitable for all purposes as they have different heat capacities, wattages, temperatures, etc.
Type of soldering iron
Soldering iron
This should be one of the cheapest soldering tools on the market because it is simple and very small, and can easily perform soldering tasks such as soldering and desoldering wire headers on circuit boards. The temperature capacity and control ability of a soldering pen is very limited, and obviously its working ability is also limited. Its temperature range is 300-800°F.
Soldering gun
The soldering gun is a hand-held gun-shaped soldering iron. Its size, heating capacity and speed are much stronger than those of the soldering pen. The rated power is about 100-240 watts, and the temperature rises relatively quickly. There is a transformer built in to generate current, which can convert 100V alternating current into low voltage. The temperature can be quickly adjusted through the button on the soldering gun to melt the solder quickly. So it is ideal for light sheet metal work and heavy electrical connections.
Soldering Stations
The soldering station is more flexible than other types of soldering irons. In addition to the stand for placing the soldering iron, it also comes with other tools to aid in soldering. These tools are attached to the soldering station to provide one or more tools such as a soldering iron, hot air gun, desoldering gun, infrared heater, patch thermal tweezers, etc. In other words, it is very powerful. It's more suitable for electronic maintenance, electronic experiments, complex soldering and other tasks.
3 Best Soldering Station Recommendations:
Before deciding which soldering iron to buy, there are many things to consider besides the type, such as size, controls, voltage, ESD protection, wattage and even soldering iron tips. Because no matter how good the soldering station is, it is still difficult to work without a good soldering iron tip.
The new AiXun T3B soldering station offers the best functions of the above. It is equipped with everything you need, supporting temperature adjustment from 100°C-450°C. It also provides perfect control and safety features, and it is convenient and efficient to use.
We have prepared models of the best soldering irons on the market to expand your purchase range. We compare and test it mainly considering its performance, quality and some other excellent features.
1.AiXun T3B 96W Soldering station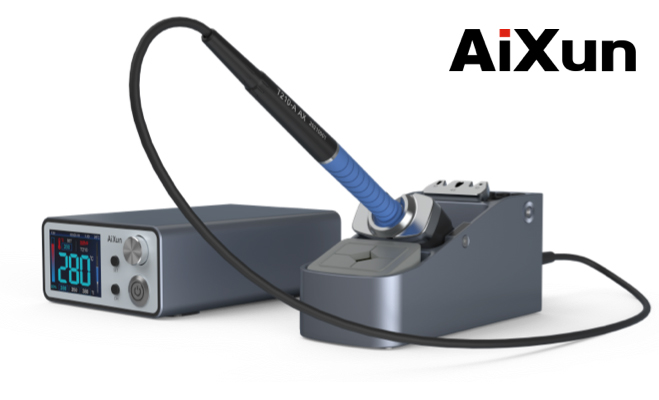 Brand : AiXun
Wattage: 96
Temperature : 100℃-450℃
Type : Soldering Station
Advantages:
• 2.4-inch large color screen visual experience, 3 temperature setting shortcut keys
• Intelligent temperature control, rapid heating and heat conduction, more accurate temperature control
• Four working modes, including [Work Mode], [Standby Mode], [Eco Mode] and [Rest Screen Mode]
• Strong anti-static design, in line with industrial ESD design, high efficiency and energy saving
• Support PC software upgrade, permanently enjoy function upgrade
• Precise and delicate with 2 optional soldering handles
Disadvantage: AiXun T3B soldering station has only one handle holder, but it is enough for your soldering work.
Recommended index: 9
The AiXun T3B is probably the hottest soldering station on the market. It comes with the basic features and tools most professional welders need, which is why we chose it.
AiXun T3B 200W Smart Micro Soldering Station supports T210 and T115 handles and is specially designed for nano-precision component soldering. Using the most advanced intelligent temperature control system, it only takes 2 seconds to heat the temperature to 380 ℃, and the temperature accuracy deviation is less than 1%. The 2.4-inch large LCD color display screen helps the operator to easily understand the current working status and temperature. The temperature is adjustable from 100-450℃, and the strong anti-static design conforms to the industrial ESD standard. Remote software upgrade is a unique feature of all Aixun products. It is a rework soldering station for electronic parts repair. This is a reliable soldering iron station capable of easily switching between low and high temperatures. Very consistent and precise.
Packing list:
1x Main Station Aixun T3B
1x Base with tip cleaning sponge
1x optional T210/T115 handle with K, I, S tips
2.X-Tronic #3020-XTS 75W Soldering Station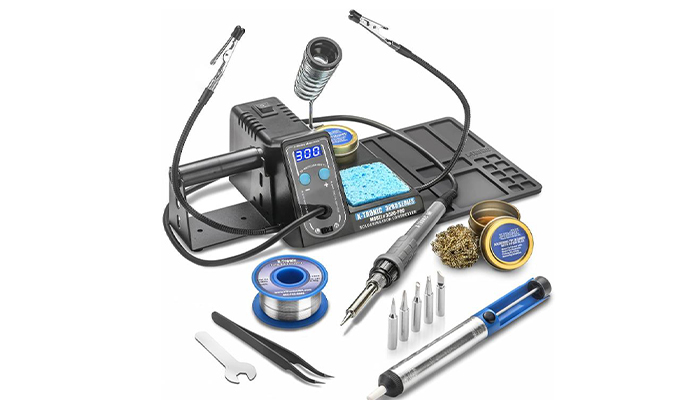 Brand: Tronic
Wattage: 75W
Temperature: 392°F to 896°F
Type: Soldering Station
Advantages:
The number of accessories that come with the package is worth the money.
Comes with long, flexible cord; 40" soldering iron wire and 55" host power cord provided.
A 60-watt soldering iron and a 15-watt mini-board for use in the soldering iron are provided.
Rapidly heats from 392°F to 896°F in seconds.
The device is ESD safe.
Provides excellent temperature control.
Disadvantages:
The station is not very stable in terms of the weight of its base, but that's a small problem
Recommended index: 8
Its PI technique is also a killer. It automatically checks and adjusts the power output of the soldering iron every 20 seconds to ensure its optimum performance. We also like that it has a sleep mode that active after 10 minutes. Very handy in improving project safety and extending machine life.
3.Weller WLC100 40 W Soldering station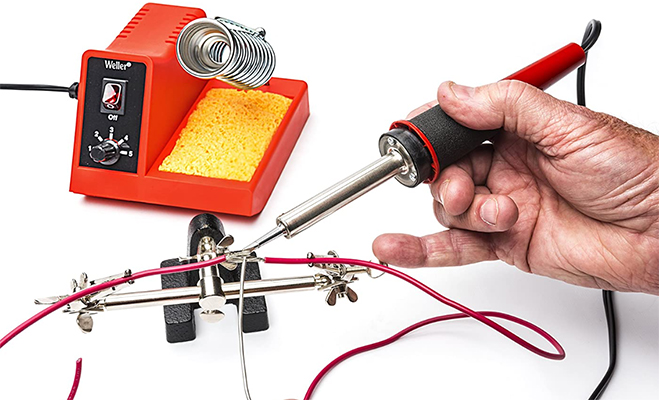 Brand: Weller
Wattage: 5-40W
Temperature: up to 480°C
Type: Soldering Station
Advantages:
UL Safety Approved.
A very universal soldering station.
Ability to use third-party tips up to 40 watts.
Compatible with a variety of excellent soldering tips.
Great for DIY and occasional small-scale work.
Prices are very reasonable
Disadvantages:
1. The tip takes at least a minute to heat up, but this is a known issue as it's only 40 watts.
2. It can only regulate the heat output, not the temperature you need.
Recommended index: 8
The Weller WLC100 is a versatile soldering station that benefits many users, especially hobbyists. The station can also be used with third-party tips and use replaceable tips. For its price, the inclusions are pretty decent. The station is compact but offers an excellent performance that will last for years. It also comes with a built-in welded stand and a designated spot for a cleaning sponge.
According to the above simple analysis, we also have a deep understanding of the soldering station. The selection of the soldering station is also a difficult thing, but after understanding some of its properties and the scenarios it should be used in, combined with your own needs, you will find that the selection of the soldering station is a relatively easy matter.