In 2018, a brand born for communication tools was founded. Shenzhen AiXun Intelligent Hardware Co., Ltd., which is located in the "International Information and Communication City-Shenzhen". Over the years, AiXun has been popular in customer service, technical support, high-quality products, fast turnaround and innovative research. Our aim is to strive for a well-known brand as the goal, with customer satisfaction as the starting point, make every effort to manage, continue to work hard, provide users with high-quality products and services, and wholeheartedly cooperate with new and old customers and manufacturers from all walks of life to create brilliance together.
AiXun is a high-tech enterprise dedicated to providing intelligent solutions in the field of precision electronic soldering equipment. It is a professional manufacturer integrating R&D, manufacturing and sales of soldering products. The company's business mainly involves intelligent software and hardware development, material analysis, mobile phone maintenance, precision circuit board soldering, maintenance and other fields. The main products include: soldering station, hot air gun, automatic soldering equipment, maintenance power supply...
Why choose AiXun soldering equipment?
Our soldering equipment is built to withstand the rigors of a variety of industrial soldering applications, as well as those of precision electronic soldering applications and electronic product repair. Over the years, we have always adhered to the tenet of "today's quality is tomorrow's market". In addition to improving our own product quality, we have also gradually increased the scale of production, and the strength of the enterprise has been increasing day by day.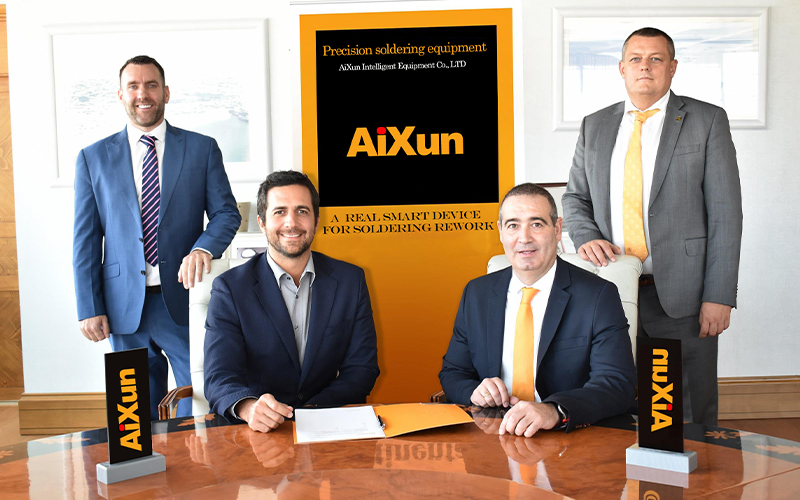 AiXun Partners talk live.
We take the usability and reliability of our products as our guiding principles. Serving local clients professionally with our highly established partner network covering more than 70 countries around the world. As of 2022, we have nearly 600 dealers in 37 countries around the world, with sales reaching 98 million US dollars.
Our staves are at the heart of our business and everything we do starts with them. To compete in the global marketplace, we focus on attracting and retaining the best talent that reflects our global community and creating an environment where team members feel valued and their hard work is appreciated.
Contact us:
Not sure what we can offer to your process? Check out the intelligent software and hardware development, material analysis, mobile phone repair, precision circuit board soldering, repair, and other fields. The main products include: Soldering Stations, Hot Air Gun, Automatic Soldering Equipment, Maintenance Power Supply.... You may also want to know how to find AiXun. You can search by the product's name, product category, or the specifications it needs to meet.